The vision for The Schrempf building is to preserve the historical value and the significates to the business community on Main Street.
Currently, the focus is updating The Schempf Building as we prepare the building for possible various re-usages.  The building is in the mist of planning its renaissance being renewed with ADA elevator access and fire safety, all electrical and plumbing is being evaluated for the possible needs for the various tenants that may want to occupy and lease space.
The building located at 207-213 E Main St., also known as the George Schempf Building, was built in 1855. It was originally a two-story building that housed four stores, but they were later combined into one business known as the Schempf Brothers Department Store. In 1905, the third story was added. Schempf's stayed in business until 1936, but stayed a department store, Kline's Department Store. Therefore, it is considered one of the largest and longest department/dry goods store in the city and a leader in modern retailing in the community. It dominated the streetscape of Main Street with its size and it is an important example in the area of vernacular architecture influenced by the Victorian Gothic style.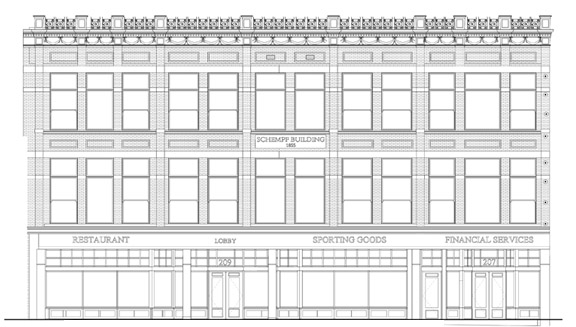 The entire first floor of the building will be retail/commercial space, and possibly  a high end restaurant to re-establish the significance's and the importance of The Schempf building as it was in past attracting business and complimenting the existing businesses on Main Street,  Cosmetically taking advantage of the large storefront windows lining the front façade. 207 and 209 E Main St. This would bring daytime foot traffic to Main Street.  The ideal restaurateur tenant would be one that has experience and/or an existing successful business in the surrounding area that would complement the Watertown Public Library as it becomes the cultural center for Watertown Arts programs.
The second or third floor could be the future home of meeting, conference & banquet spaces possibly served by the restaurant at the first floor level. This would bring both day and evening foot traffic to center of Historic Main Street.
The remaining available space would be for various office spaces and or additional retail.
While these are concepts that we will be exploring, the opportunities are endless.