1902, Building at 209-211 E Main. Founded by George Schempf.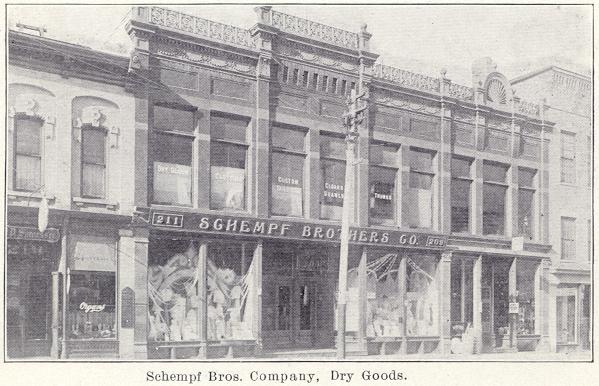 Image is prior to 1903 addition of a third floor and later (after 1910, before 1913) expansion into 213 E Main.
Schempf Bros. department store was the leading store in the city from the late 1840s to closing in 1936.
Schempf's "Big Cash Store" was the local Gimbel's or Chapman's in earlier days.  With three floors of merchandise and a grocery department in its large building (later occupied by Kresge's), it had a real passenger elevator and an overhead money shuttle service that used to fascinate youngsters.
The store was founded in 1855 by George S. Schempf (Johanna) after his return from the California gold rush.  He brought in his nephews, Leonard and John, as partners, and they were the proprietors of the store in its golden age.  The last of the family to run the store were Max Kusel, who had married Amanda Schempf, and Edward L. Schempf, a gifted singer who often appeared as soloist in choral concerts.  The Schempf store was taken over in 1936.
1855
Store founded by George S. Schempf (Johanna) after his return from the California gold rush
1892

Weltburger, 1892 Ad
1895
Clever Pretense
10/23
That clever pretense of a big break in the plate glass window at Schempf's Cash Store has deceived many a passerby the past few days. Â It is said that upon first noticing it the police made minute inquiries as to when and how the irregularity occurred.
1896
"Chief" the Shetland Pony
02/12
Schempfs' Cash Store has an attraction this week – "Chief," a Shetland pony with a phenomenally long tail, measuring fifteen feet.  The pony is quite a novelty and well worth seeing.  The children are especially interested.
1898
George S. Schempf, Limb Amputated
11/16
An unfortunate accident befell George S. Schempf Saturday afternoon on the Chicago, Milwaukee & St. Paul Railway, while he was taking his daily stroll. Â Mr. Schempf was walking towards the Junction and it seems stepped from the main track on to a side track in order to allow a train to pass. Â But in doing so he only placed himself in the way of another train a special freight which was moving along the siding slowly and which he failed to see approaching. Â This train struck him and his right leg was caught under the wheels, severing it just above the ankle. Â The accident was witnessed by several men in the yards, who hurried to Mr. Schempf's assistance and carried him to the Junction Hotel. Â The flow of blood from the wound was stopped and Drs. Moulding, Whyte and Werner summoned. Â As soon as practicable Mr. Schempf was taken to his home at 403 S. Second Street. Â He was not unconscious at any time and his system withstood the shock very well. Â Late Saturday night the crushed portion of the limb was amputated and the attending physicians look for a speedy healing of the wound and Mr. Schempf's ultimate recovery.
1901

1901 Fire Insurance Map, 200 block E Main, compared to 1909

1902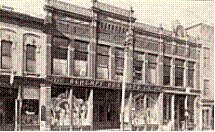 Sproesser building, 213 E Main BECAME PART OF SCHEMPFS BUILDING SOMETIME AFTER 1910
1903
George S. Schempf, 1828-1903
02/06
Shortly after 7 o'clock on Saturday evening, January 31, 1903, George S. Schempf passed from earth at this home in [on] Second Street. Â Mr. Schempf had not enjoyed very good health of late, and for about two weeks previous to his death he had complained considerably of his condition, but on Saturday it was thought his health was improving, when a sudden change set in and his death came unexpectedly.
He had been a sufferer with Bright's disease for some time, and finally heart failure set in.  His death was heard of with surprise and regret by all our people.
Deceased was a native of Hessen, near Darmstadt, Germany, where he was born May 23, 1828, hence was in his 75th year.  When quite a boy he came to America and located at Cleveland, Ohio; from there he went to Milwaukee, and in 1846 located in this city and engaged in the general merchandise business.  In 1849 he went to California, where he stayed for nearly two years, and again located in Watertown and opened a general store with his brother at the site of where Schempf Bros. Co. now conduct their business, the firm's name being G. & F. Schempf.
The firm dissolved partnership after a short time, and the former [George] continued in the business until about seventeen years ago, when he retired on a well-earned competency and has since led a retired life.
September 22, 1857, he was married, his wife surviving him, and three daughters, being Mrs. D. H. Beurhaus of Tacoma, Wash.; Mrs. Henry Schorndorfer of Cleveland, Ohio;, and Mrs. Lance Pierionet of Wheaton, Ills.  John and Lawrence Schempf, of Schempf Bros. Co., are his nephews.
By the death of Mr. Schempf Watertown has lost one of its most honorable and most highly esteemed citizens.  As a businessman he always commanded the respect and confidence of the general public, and socially he was genial and companionable, and was ever ready at all times to lend a helping hand to any worthy object for the betterment of his city or fellow man, either in a business or charitable way.  His death is sincerely mourned by all our people.
Thursday afternoon at 2 o'clock his funeral took place from his late home. Rev. H. Stertz of the Evangelical Protestant Church being the officiating clergyman, and his remains were laid at rest in Oak Hill Cemetery.
11/22
Third Floor Addition Opening
    First Passenger Elevator in Watertown
Last Saturday Schempf Brothers' Third Floor opening attracted thousands of people. A third story has been added to their business block, and has been recently completed.  This is stocked with a large assortment of cloaks, shirts, waists, furs, carpets, rugs, curtains, draperies and fancy arts goods, and on Saturday the very large crowd that visited the opening were highly pleased with what they saw in the line of elegant goods, and also the arrangement of this large, well-lighted and well-arranged addition to Schempf Bros. Co. business house.  It was beautifully decorated with palms and greenery, and in the evening eight Humphrey four-glow gas lamps illuminated the place to perfection.  The Apollo Orchestra, stationed on the second floor furnished music in the afternoon and evening.  The elevator just placed in the store was a great convenience for the visitors on this day, and nearly every visitor took advantage of it and visited the third floor, it being the first and only passenger elevator in use in Watertown. Schempf Bros. Co. is to be congratulated on the success of their opening, and the people of Watertown and vicinity have every reason to feel proud of this old and reliable business house.

Get a Flannelette Night Gown at Schempf's !
1904
05/13
Electric Cable Cash System
A new electric cable cash system has just been installed in Schempf's store whereby change can be made from any part of the store to the office and returned.  It is one of the finest cash systems now in use and will greatly facilitate business at this popular establishment.
05/20
Opening of Remodeled Store
(advertisement)  We are glad to announce that the formal opening of our remodeled store will occur Saturday, May 28.  There have been many delays but the store is now entirely completed and is conceded one of the best is this state.  We're proud of the store – proud of its arrangements – proud of the superb stock of merchandise it contains.  The opening day will be a memorable one – including beautiful decorations and orchestra music both afternoon and evening.  Besides, we will begin on that day a One Week's Sale which will include every department in the store.  We will offer such unusual bargains that you can't afford to stay away.  We expect to make our opening sale the most important event in the history of the retail trade in Watertown.  Arrange to come on the opening day if you can.  You'll find it interesting and profitable.

06/03
GRAND OPENING OF SCHEMPF BROS. CO.'S BIG STORE.
Last Saturday the formal opening of Schempf Bros. Co.'s, remodeled store took place, at which a one week's sale was inaugurated.  Throughout the entire day the store was crowded with people, which included very many from the surrounding towns of Jefferson, Dodge, Columbia and Waukesha counties  The people who attended the opening can well repeat the firm's own words:  "We're proud of the store — proud of its arrangements — proud of the superb stock of merchandise it contains."  The entire three floors of this big store were most beautifully decorated with greenery and flowers.  Conspicuous among the decorations were a large cluster of American beauty roses and a large floral horseshoe, an insignia of good luck.  An orchestra in a balcony overlooking the first floor discoursed fine music during the day, which added greatly to the pleasure of the visitors, and the many bargains offered and taken advantage of sent each purchaser away rejoicing.  The sale continues until Saturday evening, and as many as possibly can should take advantage of it. Schempf Bros. Co.'s store is now one of the largest and best-arranged in the state, being supplied with a passenger elevator, the latest in cash delivery systems, and every convenience that makes th« store a popular one to visit.  It is well lighted with both natural and artificial light, and the evening display of electric lights in their store and show windows the past week was most beautiful.  Their stock is one of the largest and best in the state, and it includes everything usually found on sale in a department store.  Each department is presided over by experienced accommodating salespeople who delight in waiting on visitors whether they intend purchasing or not.  Visit the store of Schempf Bros. Co.'s this week if you wish to secure unusual bargains.
c.1905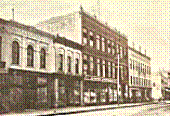 1906
First floor

Second floor
Third floor  /  There was also a basement level of this store.
08/16
Edward L. Schempf Stabbed on Leonard Schempf farm in Clyman
Edward W. Schempf lies suffering at his home at Jones Street, the result of a stabbing affair in the town of Clyman yesterday afternoon in which he received three ugly wounds, the offender being a farm laborer by the name of Fred Mundt.  It appears that trouble had been brewing between Mundt and Schempf, both of whom were working on the Leonard Schempf farm in the town of Clyman, the owner of the place being the step-father of the victim of the stabbing affair.  It is said that the parties had an altercation a couple of weeks ago, but finally became reconciled and shook hands and became friends once more.  Just how the trouble started yesterday, the Leader representative was unable to learn.  It is said that the two men were engaged in harvest work and were standing on a stack of grain, when Mundt suddenly pulled a knife and flew at Schempf in a rage and began cutting him.  The result was that Schempf received a couple of bad gashes in the arm and another bad wound in the chest.  The latter, it is reported, was not far from the heart, a spot the offender no doubt attempted to reach.   Watertown Leader
09/11
John W. Schempf Sells Drug Store
It has been known for several days that there has been a change in the Schempf Drug Company and the Leader has been anxiously awaiting the time when it could impart the information to its readers, but was requested not to do so by Mr. John Schempf and the new purchaser of his interest for certain reasons best known to themselves.
After a business career here for several years, Mr. Schempf has disposed of his interest in the business to Mr. W. G. Atwell, who has already assumed charge of the business.  It is with much regret that Mr. Schempf's many friends learn of his retirement from the business which he began seven years ago with modest beginnings, till he has worked up an enviable reputation and an excellent business – in fact a drug store that is a model of beauty and one that would be a credit to any city much larger than Watertown.  The regrets are more keen when it is known that Mr. Schempf at no great distant date is to engage in business elsewhere.   Watertown Leader
1906
09/14
John W. Schempf has disposed of his interest in the Schempf Drug Co. to W. G. Atwell, of Colby, who has already taken charge of the business.  Mr. Schempf has been closely confined in his business for the past seven years and he found that it is necessary for him to take a vacation for the benefit of his health, and he knew of no better way of doing so than to dispose of his business and be relieved of all cares.  He intends taking a trip to Boston, and Atlanta, Georgia, and other places in the east and south.  He will be absent from the city for about two months, and at the end of that time may decide to engage in business again, but outside this city.  Our people regret his move, so far as it taken him out of the business life of this place, for he was looked up to as one of Watertown's most enterprising and popular young business men, and all wish him success wherever he may locate.  His successor, W. G. Atwell, comes to: our city well recommended — being a first-class druggist and possessing an interesting and progressive spirit.  Our people welcome himself and wife to our city, and all trust that they will find Watertown a pleasant and profitable place to reside.   WG
1907
04/25
Meyne Drug Company. Â A deal was closed last evening, whereby the Schempf Drug Store was sold to Mr. William H. Mayne of Ely, Minn., that gentleman to take possession today, the same having been sold by W. G. Atwell who bought the business a few months ago, but retained the old name . Hereafter the place of business will be known as the W. H. Meyne Drug Company. Â Mr. Atwell will remain in the store about a week when he will go to his former home, Stevens Point, Wis., where he will remain during the summer and where he may engage in business . . . Mr. Mayne comes here a stranger, but The Leader ventures to say that he will soon possess many friends . . . He is an exceptionally pleasant person to meet and has all of the gentlemanly bearings . . . He is German by birth, a fact that will add materially in the success of his business. Â He is a man of family and will soon remove to Watertown to become a permanent resident. Â Â WL
1908
10/23
Arthur Heide and bride surprised by store
Last Monday evening the clerks of Schempf Bros. Co. surprised Arthur Heide and bride at their home in North Warren Street, where all passed a few hours very pleasantly.   WG

1908, Main and Third, Schempf's is on the left
1909
02/19
Edward Schempf had singing part in sacred cantata at St. Paul's Episcopal    WG
04 23       Robbery at store    WG
09/10
Ed Schempf and John Goodnetter returned from New York; selected fall and winter goods     WG
07/23
Fire at Store; Imitation Palm
At about 10:30 o'clock last Monday evening an alarm of fire was turned in from box 17, corner of Main and First streets, on account of an imitation palm being on fire in Schempf's drug store.  Mr. Schempf had only been away from the store a short time, and being in the vicinity his attention was called to the fire and he went to the store and with the aid of others he removed the palm to the street where it was entirely burned.  There was no other damage.  Had the blaze not been so quickly discovered a bad fire might have been the result.  It is supposed the fire took place from someone throwing a lighted cigar stump into the palm.
1910
209-211 Main
12/30
Aaron Meade, for ten years past salesman in the white goods department of Schempf Bros. Co. store, has resigned, his position and on January 2nd will enter the employ of the J. M. Bostwick Co., Janesville, and will have charge of the white goods and linen department in their store.  Mr. Meade is one of Watertown's most popular residents, and our people will regret the departure of himself and wife from our city very much.
1911
03/16
Capital Stock Increased.  The capital stock of Schempf Bros. Co. store has been increased from $75,000 to $100,000, making it one of the strongest financial mercantile establishments in Wisconsin.  The firm now does an annual business of over $250,000 and the business of the firm is increasing from year to year.  Over 50 sales people are employed in this popular store and more sales people are being added from time to time.  The officers of the firm are John Schempf, president; Max G. Kusel, vice president; Edward L. Schempf, secretary treasurer.   WG
06/22
The employees of Schempf Bros. store enjoyed an outing at Silver Lake last Monday evening, making the trip on the Interurban railway.   WG
1913

Sponsoring ad in 1913 Orbit
07/03
Have New Ramblers.  Edward L. Schempf and William Hartig have recently purchased two of the latest model Ramblers.   WG
1914
03/26
Saturday evening the 50 employees of Schempf Bros. Co. left the store and assembled at the home of John Schempf, on Clyman Street, and had possession of his home upon his arrival, to his great surprise.  They met there to congratulate Mr. Schempf on his 70th birthday anniversary and in honor of the event presented him with a handsome loving cup, on which was inscribed:
"A token of highest esteem presented to Mr. John Schempf by his employees on his 70th birthday, March 22, 1914."
A fine supper was served all present and the guests tarried till after 12 o'clock midnight to make the affair a real birthday greeting.  Mr. Schempf is president of the Schempf Bros. Co. and has been in active business here for over 50 years.
1914
Schempf Drug Co. Sells Out.
04/23
Erwin Bitttner and Max Tetzlaff take over the old John Schempf drug store.
The Schempf Drug Co. has disposed of its business interests to Max Tetzlaff, son of Ex-Alderman Herman Tetzlaff, and Erwin J. Bittner, son of William Bittner.  Both young men have been engaged in the drug business in Racine a number of years and are well qualified to conduct a drug business.  Hosts of friends here wish them success.  John W. Schempf, the former proprietor of the business, may decide to locate in the west.   WG
1915

Schempf Ad, 1915
1916

Your Store.
We call this "your store" for the reason that you are at liberty to come and go as you please, whether for sight-seeing, rest, recreation or shopping.  It is not only a mercantile establishment to make money but to offer you every convenience in the way of the little luxuries that will come to you at no cost whatever.  Whenever it has been possible for us to install new fixtures that would help you in your shopping, and make more satisfactory to you every purchase, we have done so, and in our merchandise we have tried to give you always a little better value for your money than you expected.  As a result, ofttimes our advertisements may seem to you a little far-fetched, but we want to impress upon you that each and every item advertised by us is exactly as represented.  – Schempf Bros.
1920
John Schempf, 1844 – 1920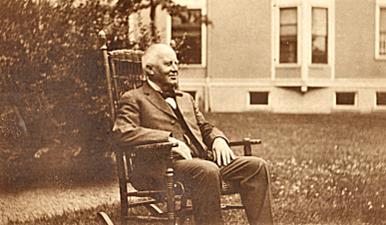 ANGEL OF DEATH CALLS JOHN SCHEMPF PIONEER RESIDENT
One of Watertown's Foremost Business Men and Worthy Citizens Succumbs at Home this morning
John Schempf, son of George F. Schempf, nephew of George S. Schempf. In 1875 Mr. Schempf formed a partnership with his uncle, George S. Schempf, and brother, the late Leonard Schempf, under the firm name of George S. Schempf & Co., which continued until the retirement of George Schempf, the business being conducted by the brothers under the name of Schempf Bros. Co., of which Mr. Schempf was president at the time of his death.
John Schempf, pioneer resident and one of the most widely known business men in this section of Wisconsin, answered the call of death in the family home, 803 Clyman Street, this morning after a brief illness.  He was confined to his home since December 7 with heart trouble which was complicated later with pneumonia.  While his condition was known to be serious, relatives and friends alike hoped for a recovery to prolong his useful life, but medical aid, care and attention proved of no avail and he passed to his reward at an early hour this morning.
John Schempf was a son of the late Mr. and Mrs. George F. Schempf and was born in Milwaukee March 22, 1844.  When a child he removed to this section with his parents, where they engaged in farming in the town of Emmet.  After leaving school he entered the employ of Gorham P. Jones as an apprentice clerk, completing his apprenticeship with his uncle, George S. Schempf, and in 1867 when 23 years of age, he embarked in mercantile pursuits with his father, the late George F. Schempf, establishing a general merchandise business which was destined later to become one of the largest and best known business concerns in the state with a patronage extending over the greater part of southeastern Wisconsin.  In 1875 Mr. Schempf formed a partnership with his uncle, George S. Schempf, and brother, the late Leonard Schempf, under the firm name of George S. Schempf & Co., which continued until the retirement of George Schempf, the business being conducted by the brothers under the name of Schempf Bros. Co., of which Mr. Schempf was president at the time of his death.
The keen aptitude and rare business judgment of Mr. Schempf was shown in the rapid development of a business which has grown to immense proportions and spread all over this section of the country, the firm name becoming a household word in thousands of homes where the impress of honest dealing and worth was stamped upon it by the marked personality and character of its founder and head, a fitting legacy to those who come after him.
On May 8, 1870, Mr. Schempf was united in wedlock with Bertha L. Speer of this city, and in 1895 celebrated his silver wedding and on May 8 of the present year observed the fiftieth anniversary of his marriage.
Long Business Career
Mr. Schempf began his long and honorable business life more than 60 years ago and during that time his name was a synonym for honesty and integrity.  He was a type of the forceful, self-reliant man of the kind who have left their mark on the upbuilding of the community.  He was primarily the keen man of business, but with the liberal tastes so well known.  Of a genial and happy disposition he shed the radiance of good cheer wherever he went and was always a favorite in the social world of which he was a part.  His nature was of the quality which makes and keeps friends.  Democratic by nature, he gathered about him warm friendships which endured during life.  He never aspired to public life, taking interest, however, in all that meant the better welfare of the city, a generous giver to every worth cause without ostentation, and the community will deplore the loss of an active and widely popular business man and citizen.
Mr. Schempf is survived by his widow and four children:  Edward L. Schempf, Miss Elsa Schempf, Watertown, Mrs. O. Weber, Stevens Point, John W. Schempf, Milwaukee.  Seven grandchildren also survive.

Miss Elza Schempf, daughter of John Schempf Daughter of John Schempf Sr (Bertha), 1844-1920

Mrs. John Schempf and daughter Elza, 1936

1901:  John W. Schempf Jr, 1874-1931. Son of John Schempf Sr (Bertha), 1844-1920
The funeral will take place on Monday afternoon.  Services will be conducted in the home by the Rev. Julius Kingmann of St. Mark's Lutheran Church at 2 o'clock.
The burial will be in Oak Hill cemetery [Schempf, John, b. 1844, d. 1920, Sec 25, Oak Hill Cemetery].  Friends are kindly requested to omit flowers.
The Mayor's Tribute
Mr. Schempf's death is deeply mourned all over the city, especially by the older residents who were closely associated with him in a social and business way for many years.
In speaking of the life and character of the deceased, Mayor Herman Wertheimer said:  "John Schempf was a most exemplary citizen and was always loyal to Watertown, its people, institutions and enterprises.  I knew him as a friend and business man for over fifty years, and can truly say of him that in his quiet and natural way, he all the time endeavored to promote the best interest of the community, and his assistance was always substantial and effective."
"A thorough business man from the time of his youth, he was well prepared to develop the mercantile business of which he had a perfect understanding.  His integrity was of the highest order and the people all over this section reposed in him the fullest of confidence.  Mr. Schempf was truly a man of honor, possessing a genial, kindly disposition, and as such he was beloved and esteemed by all our people."
An Appreciation
Charles E. Frey, president of the Merchants National Bank, of which the deceased was a founder and director said:  "Watertown can point to no finer character man than that of Mr. Schempf.  For over a half a century he was numbered among the leading business men of this city and none stood higher in the public estimation.  He was a business man in the true sense and meaning of the term, and devoted himself energetically to the advancement of his enterprise."
"His main business principle was honesty and he believed in applying in detail all true business methods.  His high integrity, which brought him the unqualified confidence of the people, coupled with a ready judgment and great energies, secured for him a notable and successful business career."
"He was a man of generous impulses, who took a kindly interest in his fellow men."
John Schempf Home

1930
07/12
Edward Schempf attended Kading-Nelson Wedding
1936

1936 Centennial Parade
1936
SCHEMPF'S CLOSES
After its closing the Montgomery Ward and the S.S. Kresge Companies took over the building, dividing it in two.
1944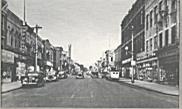 Montgomery Ward, Kresge's and Penney's
1954

1950s, mid-late Montgomery Ward Closes
The future occupancy of the store building at 209 Main Street, now occupied by the Montgomery Ward and Company, is still in doubt.  The Montgomery Ward concern made known last Oct. 19 that it would close its store here on Jan. 15 of this year and plans to that end are now being carried out.  So far no tenant has been announced for the store, once known as the Schempf Bros. Co. department store.  There have been many rumors concerning future occupancy of the four story building but all have proved to be rumors and nothing more.  One deal that was contemplated has not materialized.  Schempf Bros. operated the store for 88 years before it went out of business in 1936.  The doors closed on May 16 of that year.
Schempf Bros. Department store, known as "The Big Cash Store", was the leading store in the city from the late 1840s to 1936.
After its closing the Montgomery Ward and the S.S. Kresge Companies took over the building, dividing it in two.
1957
Before Kresge's bought Montgomery Ward (Schempfs) bldg..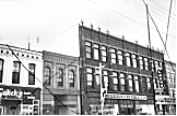 City Assessor file image, c.1957
08/07
Kresge Company purchased the Montgomery Ward building.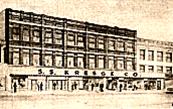 Artist's sketch
Enlargement and alterations to be completed in September.  The remodeled and enlarged Kresge's will be more than double its original size.
1987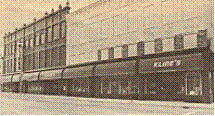 1987 photo
Kline's opened in Watertown in 1959 and expanded several times before locating at 205-209 E Main in October of 1983.
Kline's moved into the building now occupied by the S. S. Kresge variety store in early fall.  A major renovation project, including a new front and completely redone interior, is planned.  Kline's takes possession of the building at 207 East Main Street July 5 and will continue at its current location until the renovation is complete.
Its presence was made known by use of adjacent awnings and display windows.
1993
06/15

Klines closed its doors after being in Watertown since 1954
2012
04/24
Mid-town shooting range, gun shop, gets approval
The Watertown Plan Commission granted a conditional use permit to allow a retail gun dealership and a shooting range to open at 209 E. Main St.  The new business would be called Martz' Muzzlez Range and Dealership.  In the initial phase, the business is planning on opening the firing range, retail space and a member's lounge.
The building at 209 E. Main St. has been vacant since Calico Cottage moved out five years ago.
The company also plans on renovating the second floor to open an education center for gun safety and training classes, advanced laser ranges for police training and a gunsmith shop.
The company will also be purchasing and renovating 207 E. Main St. and will look to rent the space out to a separate business.
They also plan on renovating the third floors on both 207 and 209 E. Main streets to rent out as residential living spaces.
2014

Schempf Building under New Ownership July 22, 2014